Blumaka is a high-performance brand of insoles made from all types of landfill diverted recycled plastic content. With that in mind, Ratio is a new shoe (and brand) that takes the Blumaka concept to a whole other level, a performance running shoe that overall, is made from about 60% recycled content. The upper is a thin, conforming polyester in environmentally friendly solid white or black (yeah, it also comes in baby blue or mauve for those seeking other fashionable colors). This combination has resulted in a midsole with impressive longevity, lab tested and guaranteed for 1000 miles. As the saying goes "The proof is in the pudding," so how does it measure up?  The ride is bouncy, a bit heavy on the scale, but its resiliency belies the extra weight. The traction benefits from its hemisphere tread with alternating protrusions and recesses providing grip while improving the durability. The cherry on top is actually the Blumaka insoles inside; reiterating the waste-stream diversion story while providing a great and long lasting, cushioned ride.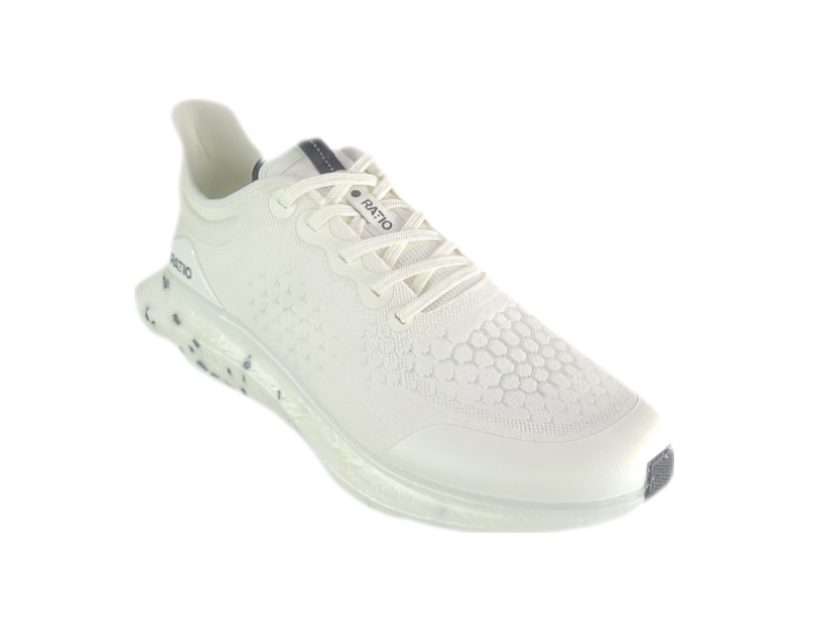 Testers: "Something a little different and with a great story. Well cushioned, smooth ride, comfortable fit, and I think they won't be the last pair I own."
New Shoe
Price: $195
Sizes: 7-13,14 Men, 5.5-12 Women
Weight: 14.4 oz. Men's size 12, 10.1 oz. Women's size 8.
Shape: Semi-curved, snug heel
Construction: Strobel perimeter lasted.
Recommended for: For high to low arched feet with Neutral biomechanics, to mild overpronation.